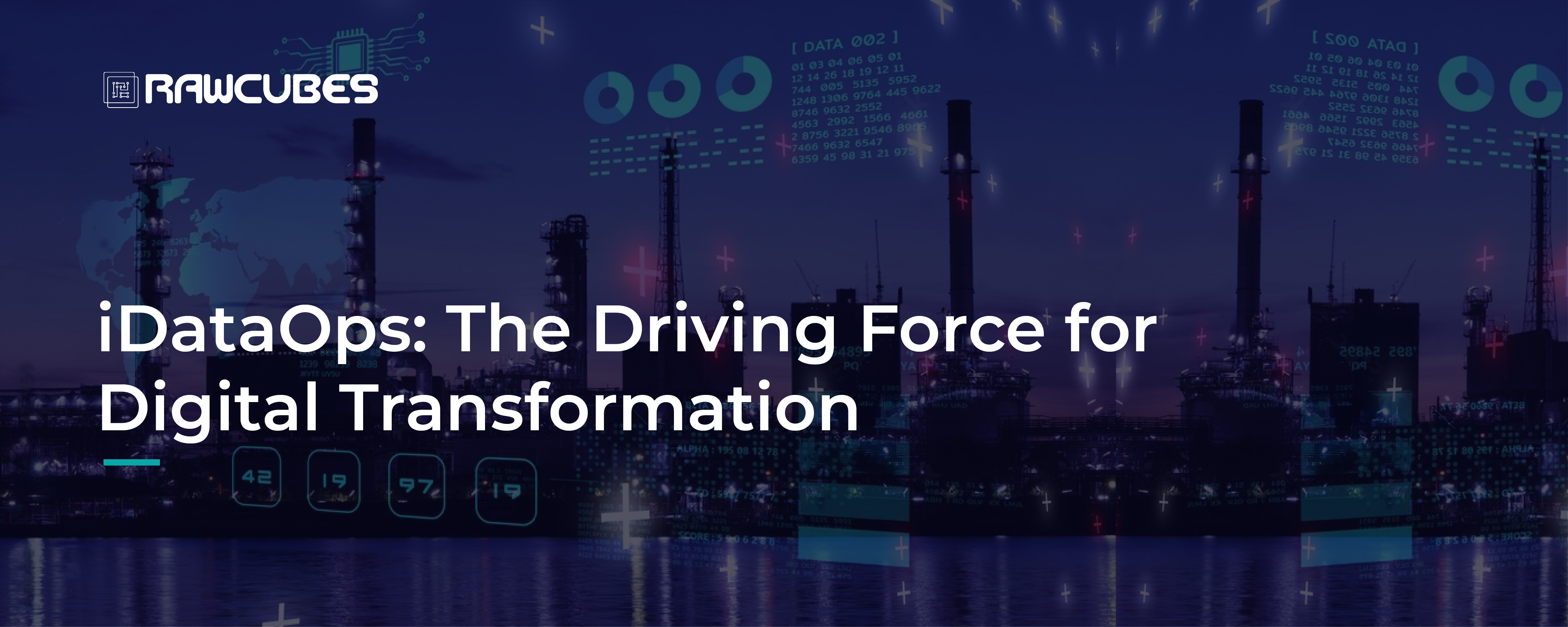 Why do we need Industrial Data-Ops?
The manufacturing sector is currently undergoing a momentous transformation driven by data, which is commonly referred to as the Fourth Industrial Revolution. In response to the global pandemic in 2020, many traditional industrial sectors such as oil and gas, electricity and utilities, and manufacturing began adopting digital tools to digitize their processes, adapt to Industry 4.0, and address vulnerabilities.
However, the collection and organization of useful data remain a significant challenge for many companies in these industries. Disorganized data, siloed information, and data incompatibility across various sources can hinder organizations from taking advantage of data analytics to make informed business decisions. A new codeless solution called DataOps is emerging as the missing piece needed to solve the data challenge in these industries.
That brings us to iDataOps, Rawcubes' Industrial DataOps platform.
Introduction to iDataOps platform
iDataOps, Rawcubes' Industrial Data Operations platform, is a game-changing solution for manufacturers looking to streamline their data management and machine monitoring process. With its advanced automation capabilities, iDataOps can seamlessly monitor and manage all connected devices with minimal human intervention. Built on top of DataBlaze, Rawcubes' industrial data management software, iDataOps can analyze production-level equipment, predict maintenance requirements, and forecast part replacements. Predictive maintenance via the tool helps manufacturers avoid costly equipment failures and unscheduled downtime by forecasting part replacements and maintenance needs, resulting in improved profitability and competitiveness.
iDataOps also enables real-time monitoring of equipment behavior, device usage, and power consumption. This allows manufacturers to quickly identify and resolve any issues, ensuring optimal performance and reducing downtime. The tool provides comprehensive data retrieval and analysis capabilities, allowing manufacturers to gain valuable insights into their operations and make informed decisions.
Real time Equipment Performance Monitoring and Data Analytics
iDataOps platform constantly monitors the data from the equipment in real time at an individual level. The user can select the time range for the observations–daily, weekly, monthly etc. and monitor each machine individually or collectively by choosing the machine/machines of interest. This allows them to check for any deviations from the expected performance. The aggregate information stored in the different workbenches and the data from the equipment can also serve as historical data for future analysis.
iDataOps also provides users with data processing capabilities. The platform's proprietary standard data models and ML-based predictive maintenance models further enhance its capabilities, providing real-time insights that enable proactive maintenance and optimization.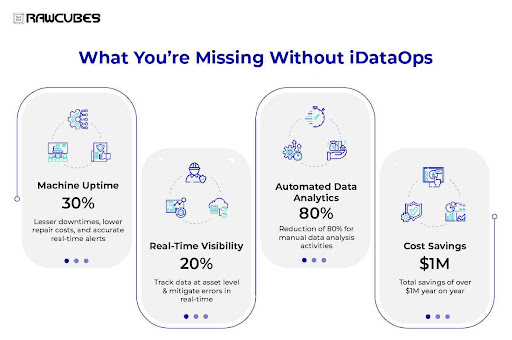 The iDataOps advantage—How iDataOps transforms manufacturing operations.
How Does This Make iDataOps Such an Essential Tool for Driving Digital Transformation?
In the manufacturing sector, there is an abundance of disorganized and disconnected data that poses a challenge for businesses. This data is often unusable and lacks economic value until it is transformed into valuable insights. iDataOps offers a solution to this issue, providing manufacturers with the necessary tools to convert raw data into actionable insights. We'll see that through an example below.
iDataOps: Taking Manufacturing Operations a Step Further
Let us consider the example of a textile manufacturer with over 10 manufacturing units and over 3000 employees. Like other large-scale manufacturing organizations, the company faces issues with large volumes of disconnected data, costly downtime, product quality variability and ineffective supply chain management.
The Challenge
Like many traditional manufacturing companies, the vendor was equipped with outdated forms of technology for capturing and storing data. Unfortunately, this technology was not capable of handling the large volumes of data generated by the organization. The data that was captured was often disorganized and even incorrect, making it difficult to perform proper analysis and generate insights. This resulted in manufacturing losses due to issues such as defective products, missed deadlines, and unscheduled machine downtime. There was no system in place to make sense of the data being generated across the organization, nor was there a setup that could alert production support in real-time, or keep proper records of service history, quality checks, and maintenance activities.
As the organization grew in scale, dealing with these challenges became increasingly difficult. This resulted in very high operational costs, inflated team working hours, and an overall decrease in productivity. At this point, predictive machine maintenance and accessing advanced Overall Equipment Effectiveness (OEE) became an absolute necessity.
The Solution:
To solve the challenges mentioned above, we require a platform that can,
collect, connect and store a large quantity of data collected from connected and disconnected sources

monitor all the equipment connected to the platform and provide timely alerts and notifications to the users

perform machine performance analytics and predictive machine maintenance on the data stored and provide real time insights at an equipment level

ensure it is user-friendly, intuitive, easy to scale and maintain
iDataOps Takes Care of All the Points Mentioned Above and Even More!
iDataOps has been designed to understand that one size does not fit all. Different organizations may have varying requirements to drive their digital transformation. To make the platform more flexible and suited to the users' needs, the platform allows users to make modifications to certain configurations in addition to the features mentioned above. With iDataOps, organizations can onboard, monitor, and manage service history from any number of machines. The QR code assigned to service history management simplifies the process of keeping digital maintenance records of all equipment, including temperature, technical specifications and inspection logs, and consolidates machine data into a unified dashboard.
The Result
By utilizing iDataOps, the organization was able to extend the lifespan of their manufacturing equipment and utilize predictive maintenance techniques. These techniques used machine data analysis to anticipate maintenance needs, ensuring timely repairs without disrupting production. The platform enabled the calculation of health indexes for each piece of the equipment in the power grid, allowing for the prioritization of maintenance for machines requiring immediate attention.
For the devices that were connected to the platform, the remaining useful life (RUL) and mean time to failure (MTTF) were calculated and tracked at an asset level to discover issues and mitigate them in real-time. A benchmark was established to assess OEE and other KPIs. This provided the business with valuable insights to make data-driven decisions. Real-time production performance display and monitoring were also made available throughout the shop floor, from the top floor to each production line.
Conclusion
To learn more about iDataOps, you can check out the next set of blogs on our website to learn more about how we enable companies to make effective use of their data. At Rawcubes, we help digitize your manufacturing processes through our intelligent data management and machine monitoring solution. With us, you're ready for Industry 4.0. Schedule a demo with us today!