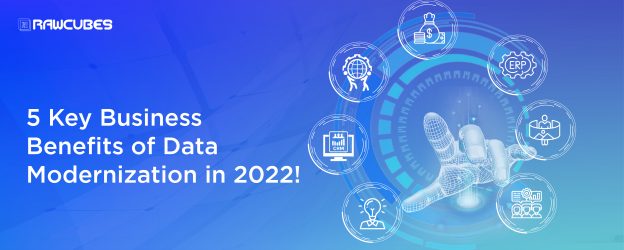 Businesses struggle with complex data as they sit on outdated and traditional data technology, which is challenging to support, scale, or deploy with the new downstream applications. ​Data-driven businesses need to get the correct data at the right moment, which is quite impossible with the traditional data management software many organizations have today. ​
Good news! This is possible using Data Modernization. Data modernization means moving siloed data from legacy databases to modern cloud-based databases. Data modernization allows organizations to be agile, and reduce inefficiencies, speedy ingestion, data-driven insurance, real-time analytics, and unnecessary complexities surrounding legacy systems.
By modernizing your data management platform with Rawcubes DataBlaze, businesses can accelerate new products and services, adapt to evolving and changing business needs/requirements, create better customer experiences, and build top-line growth. In addition, businesses require flexible, actionable, and monetizable data structures, which modern data platforms could provide.
Let's look at five key benefits of Data Modernization that underline its role in the success of a business.
Flexibility: Nowadays, users require speed of thought, agility, and the ability to make quick, well-informed decisions. These things call for a data platform that provides a high degree of flexibility. Designed to leverage all cloud-native services from any or multi-cloud, Rawcubes delivers this flexibility through cloud data warehousing, reducing the dependency on single platform lock-in.

Open and Simplified Architecture: By reducing the total cost of ownership and overcoming governance challenges, platforms require simplified architecture. Rawcubes reduces overall complexity in several ways. DataBlaze enables intelligent data access, which means unstructured data can be organized and discovered more efficiently – as if it were structured. Modernized data strategy and architecture also allow organizations to deliver ideal data experiences that offer actionable insights to end-users. Finally, with API-driven application deployment, teams can respond to the real-time needs of dynamic data and complex business environments.

High Performance through In-Memory Processing: There is an increasing demand for speed in data preparation and consumption. Rawcubes delivers this with advanced data preparation capabilities and high-speed transactions throughout the data processing life cycle. Its architecture accelerates performance to provide accurate and specific responses in a fraction of seconds. Its compatibility with powerful integration tools enables faster data delivery and loading. Data modernization also reduces time to insight and gives users the ability to quickly find value in data and ingest streaming data to analyze events. It democratizes access to data stored in one or another place for every business function.

Future-Oriented Technology: Outdated technology does not meet the demands that today's modern users place on it – through unstructured big data and IoT devices. The platform should be hosted in the cloud, allowing companies to operate it on a 'pay as you grow basis, supporting new product development. This also reduces capital expenditure and, therefore, financial risk. Rawcubes supports a tiered data architecture that can help organizations avoid archiving valuable data. One of the benefits of Data modernization is that it can be scaled to meet the growing data and analytics needs and can also be integrated with new data sources to use data at any scale, which helps businesses with rising data volumes.

Complete Control and Governance: Decision-makers/users require a flexible and modern data warehouse that provides visibility into relevant information without compromising data governance obligations. Rawcubes offers comprehensive security and auditing functions, enabling multi-tenancy users to allow access to data. Its simplified structure reduces governance issues arising from human mistakes, complexity, and complications. The platform also delivers data quality and visibility into data and presents it on a user interface.
Businesses must prioritize data modernization as new and evolving trends need significant changes in their data management strategy to stay competitive. The benefits of data modernization are constantly evolving. With Rawcubes' flexible tools, multi-cloud infrastructure, and data deployment options, your business can benefit significantly from data modernization.
We help you harness the power of data modernization to increase your business efficiency and customer engagement with a reduction in implementation time and cost. Contact us to discuss how we can help your business reach new heights through data modernization.