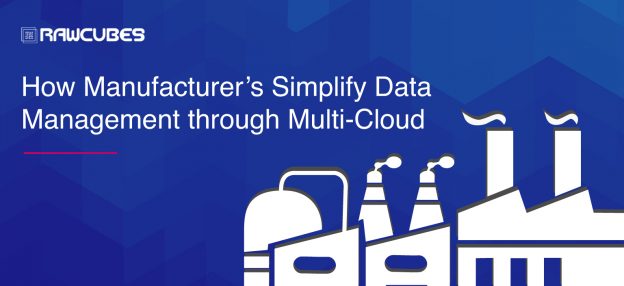 "Manufacturers are investing in modernizing their IT stack, and adopting industry 4.0 solutions to keep up with ever-changing business demands in areas like production and supply chain management," said Kozup.
Data management leveraging Multi-cloud not only revolutionizes the industrial space but also provides a platform that brings the physical world closer while ensuring enhanced efficiency.
With customer needs and demands evolving, the manufacturing industry strives for better technologies to create an edge. Though a single cloud approach or on-premise software serves that purpose, it lacks the agility, flexibility, and scalability of managing data through multi-cloud.
The manufacturing sector has built a foundation on the resources that add value to their productivity and returns on investment, but with the expansion in public demand and data generated continuously, it only makes sense to diversify to newer and more efficient solutions.
Multi-cloud manages data efficiently and possesses the ability to connect and transfer data at lightning speed which helps manufacturers, retailers, and logistics companies make proactive decisions swiftly.
But why would industries change the data management practices they've commonly used for ages?
The answer is in the question itself. Multi-cloud data management solutions play an important role specifically in areas of data processing, analytics, storage, quality maintenance, and executing manufacturing systems.
Let's measure the need for curating and managing data with Multi-Cloud in the Industrial sector concerning the challenges faced by manufacturing industries if they resort to their former data management strategies.
With a single cloud approach or legacy data management systems, manufacturing industries face data challenges such as:
1. Limited Data-Driven Market Strategies
On-premise data or single cloud approach restricts manufacturers' ability to make data-driven decisions, as on-premise data lacks effective visibility of the voluminous data stored in hundreds of silos. The visibility of well-represented data not only lowers operational costs but also grants manufacturers real-time insights into the production process (i.e. inventory volume, production capacities, demand, and supply of the products). The lack of data visibility not only hampers clear insights but also restrains the curation of proactive and data-driven market strategies. The former approach of managing data on a single cloud or on-premise hampers decision makers' flexibility in customizing products and reallocating manufacturing resources based on numbers derived from well-curated data.
2. Confined Scope for Product Development & Innovation
With Industry 4.0 prevailing in the current times, manufacturers must adopt new technologies to have an edge in the market. Increasing customer demand has led to a new norm, where manufacturers have to stay ahead of the customer trends. Without Multi-cloud data solutions, manufacturers lack the agility to manage their data and derive meaningful insights swiftly, resulting in delayed processes. The single cloud approach restricts the space for agile innovation and product development by not being able to optimally utilize the services provided by different cloud vendors, which is in turn very crucial for manufacturers.
3. Industrial data storage challenges
The abundance of data serves both positively and negatively for the manufacturing industry. Its abundance allows decision-makers to derive valuable insights but its volume also costs manufacturers a fortune. On-premise software requires a large infrastructure to host data management platforms. Though it makes data readily available, the costs to maintain, store, process, and analyze this data exceed the number of benefits it offers.
4. Effective Automation and AI
The digital era has evolved many folds and so have consumer needs. To match the supply levels with the demand, manufacturers seek automated solutions. Automation and AI not only produce intelligent operations, but they also leverage data analytics that leads to predictive decisions and enhanced automated tasks and works continuously to build better results This is where single cloud or on-premise software is lacking, as Multi-cloud allows these tasks to be performed efficiently and at lightning speed, giving manufacturers an edge in the industry.
The answer to these challenges is a Multi-cloud approach, leveraging the best of both worlds.
Multi-Cloud Data Management and Processing Strategy for the Industrial Sector
'Rome was not built in a day" and definitely not without a strategy. Similarly, for the effective functioning of IT departments, it is necessary to have a well-developed data management strategy. Multi-cloud Data Integration Tool extends its services to the Industrial sector with cost-effective data storage and data security services. That's in addition to the most important services such as enhanced analytics, machine learning, and data insights around operational efficiency.
Major benefits of moving to Multi-cloud solutions listed by prominent manufacturing companies are :
1. Unraveling Hidden Insights for Operational efficiencies
With Industry 4.0 assisting industries to build a competitive edge, automation and machine learning have helped Industries build actionable insights from data swiftly and seamlessly. With the help of data intelligence built through AI, data-driven predictive asset maintenance might save 12% on scheduled repairs while reducing overall cost up to 30%. Multi-cloud Data Integration Tool like Datablaze enables efficient data analytics by integrating data from disparate sources and creating visual insights in the form of knowledge graphs. The industrial sector benefits not only from richer data insights but also enhanced operations.
2. Agile and Scalable Solutions
With the world transitioning at a fast pace due to increased demands, manufacturers fail to gather insights from overwhelming amounts of data. Multi-cloud data processes assist manufacturers in processing operational data and generating valuable insights quickly by effectively utilizing the best cloud services. With an agile solution like Datablaze Multi-cloud software, businesses utilize analytics optimization tools in the cloud to generate better strategies.
3. Visual Representation of Data Insights
With businesses working at different levels, managing each level efficiently is crucial for the business to grow. Most Multi-cloud data management solutions are specifically generated as per the needs of businesses, and their pay-as-per-usage pricing is the most cost-effective solution.
The list of benefits that Multi-cloud brings to the table for the manufacturing industry is extensive. We at Rawcubes aim to help you achieve these outcomes. We do not just ensure seamless integration of your data on the cloud but also help you stand apart using knowledge graphs.
Request a demo with our technical experts if your organization needs agile, flexible, and scalable software with customizable solutions.