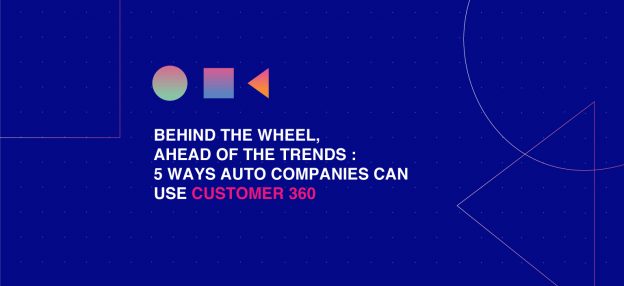 In the era of digitization and quick reception, we tend to make extensively informed and conscious decisions. Companies serve the nuanced needs of the customers with detailed product reviews, enticing ads, user reviews, etc. to influence the buyer's decision.
Since the automobile sector is the second most data-driven industry globally, it is only logical to process data from disparate sources for clearer insights. According to Luth Research, an average customer shopping for cartouches over 900 digital touchpoints.
Data regarding a driver's destination and route, including traffic details at distinctive hours, all get recorded by the inbuilt technologies of smart vehicles.
Data is overwhelming, isn't it?
Wondering how more and more automotive companies analyze the market performance of their product for efficient decision-making? Read on!
Data isn't limited to curating insights for decision making; it also helps you in understanding your customers and delivering personalized experiences while paving the way for long-term success.
Customer 360 uses customers' data and allows analysts to understand 360-degree views of a customer's journey. It lays the groundwork of the various touchpoints where a customer meets the brand. While keeping a tab on all online/offline purchases and marketing communications via customer service or social media, allows businesses to build a relationship with customers which is experiential rather than transactional.
It provides a comprehensive view of the customer's journey which assists in leveraging data from various touchpoints.
Automobile manufacturers are continuously striving to establish greater levels of customer loyalty, placing them at the forefront in all their efforts. Customer 360 can be leveraged beneficially for optimum growth and increased productivity.
Let's have a look at 5 ways Customer 360 gives your business an edge:
1. Customer Retention through a holistic view
Retaining a customer is as important as introducing a customer to your business. Informative and well-timed conversations are the keys to building customer relationships. Effective communication strategies built upon the analysis of the holistic data about a customer's journey enumerates the probability of customer retention. By anticipating customer requirements and building a well-thought-out communication plan, automotive businesses can update their communication strategies.
For instance, automotive businesses can launch campaigns to launch new technologies and schedule reminders for initiation or follow-up calls at specific intervals with prospective clients.
2. Building Strategic Sales and Marketing Plans:
Customer 360 extends the role of sales and marketing teams as it assists in constructing strategic campaigns by utilizing existing data. When businesses are equipped with a 360-degree view of their customers and have access to the history of their buying habits and preferences, better and appropriate recommendations about the product can be strategized.
Campaigns promoting new products can be customized and tailor-made for the target prospects. Segmenting the prospect list based on their choices assists with efficient plans for the marketing and sales teams.
3. Enhanced Predictive Analysis:
Predictive analysis uses statistics, data models, and AI to predict future circumstances. Automotive businesses can leverage Customer 360 by analyzing their behavior through their priorities, transactions history, and service calls. This assists the sales teams in acting upon opportunities by upgrading reports on desired models and technologies.
Predictive analytics also assist team leaders and executives in developing data-driven strategies. Predicting customer behavior with regards to changing products, timelines, or campaigns, businesses can utilize their 360-degree view of past customer behavior and make informed decisions.
4. Know Your Customers Better:
A unified customer view helps businesses dive deep into the customers' preferences. A survey carried out by Forrester Research in 2018 found that 42% of service agents were unable to settle customer issues due to the lack of thorough customer information. Additionally, 45% of customers indicated the lack of efficiency and quick support as one of the reasons to abandon a transaction
Customer reviews act as an important source of data. If there have been disputes or complaints made by the customer in the past regarding quality of service, technical issues, etc., effective steps and measures can be curated to resolve those issues for future strategies.
5. Deliver One-to-One Shopping Experiences:
The main benefit of Customer 360 is that it offers the opportunity to provide a personalized shopping experience throughout one's customers' shopping journey. For example, if a customer is technology savvy, a vehicle with upgraded smart features can be offered to them. If the customer is an avid traveler, vehicle options that are best suited for long trips and rough terrain are the best solution.
Challenges for companies in getting a 360-degree view
A key challenge faced by businesses today is gathering data through disparate sources. Customer data is stored in different systems like CRM for personal data, a custom legacy system for order history data, a POS system for purchase data, and Facebook, Twitter, Instagram, etc. for social media data. Creating a holistic view of the customer means deploying a solution that can integrate them and offer a single holistic view.
Rawcubes' Customer360 helps resolve this issue through its data platform, DataBlaze. DataBlaze supports ingestion of structured, unstructured, and semi-structured data and the addition of different types of sources. These include SQL Server, MySQL, Cassandra, Mongo, REST services, HDFS, S3, FTP, any JDBC compliant source connection, and social media sources like Facebook.
Customer360 aligns its analytical models to obtain a complete view of the customers' sales journey and experience. Along with data acquisition, processing, and visualization capabilities, it helps in providing the most accurate and reliable customer insight for each customer.
Seems like the time to reap the benefits of a holistic solution like Customer 360